Select Your Injury Type
(check all that apply)
Austin Professional Negligence Attorneys | Austin Professional Malpractice Lawyers
Today, Austin and Travis County residents require the services of a wide variety of professionals to maintain their lives, from medical professionals to accountants, attorneys to stockbrokers, real estate brokers to architects. As opposed to in the past, when life was relatively simple, we now invest in the stock market, own all types of property, design and engineer complex structures, and undergo all kinds of surgery, from routine procedures to the most complicated of surgeries. When things go wrong due to no fault of their own, Texas residents need someone to turn to in their time of need. If you or a loved one have been injured and you believe that professional negligence, malpractice, or wrongdoing may be to blame, contact an experienced Austin professional negligence attorney today.
What is Professional Malpractice?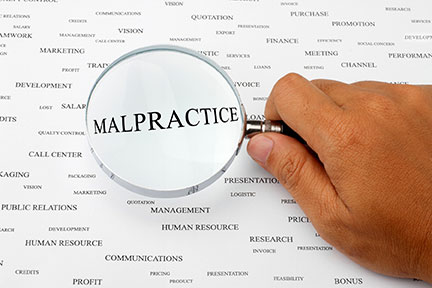 Professional malpractice occurs when a service provider's or other professional's negligent acts cause harm or injury to a client or patient. Professional malpractice can extend to doctors, nurses, caregivers, hospice or elder care workers, dentists, psychiatrists, psychologists and other therapists, lawyers, architects, engineers, accountants, stockbrokers, real estate agents and other professionals servicing Travis County residents. Specific examples of professional negligence or malpractice include breach of fiduciary duty, fraud, mismanagement, misconduct, carelessness, and errors in judgment that a reasonable professional would not have made under the circumstances. Most people think of medical malpractice first; however, various other forms of malpractice exist, including but not limited to real estate broker malpractice, stockbroker malpractice, and engineer malpractice.
A claim for professional malpractice essentially argues that the professional failed to conform to standards that a reasonably prudent professional in the field would conform to under a similar set of circumstances. This may be due to active wrongdoing but, more frequently, negligence provides the basis for a professional malpractice claim.
If an Austin, Texas professional has rendered services to you in a careless, unprofessional or otherwise inappropriate manner and you have subsequently suffered an injury — physical, emotional, or financial — you may be entitled to compensation. Contact an Austin professional negligence attorney to discuss your claim.
Austin Medical Malpractice
Austin Medical Malpractice is perhaps the first type of professional negligence to come to mind for most people. Medical malpractice occurs when a doctor, nurse, or other medical professional injures or otherwise harms a patient through wrongdoing, carelessness, or negligence. Please visit our Austin Medical Negligence section for a full and thorough understanding of this area of Texas law.
Austin Nursing Home Malpractice
DotCO has chosen to separate Austin Nursing Home Malpractice from the Medical Malpractice page because of the very special aspects to an Austin Nursing Home Negligence claim and the unique sensibilities of the parties. Some of these special factors include the age of the patient and the incredible trust placed in these facilities. Please read the Austin Nursing Home Malpractice page to understand this very serious area of the law. It is also recommended that you contact Adult Protective Services at:
Austin & Travis County Field Offices of Adult Protective Services
1340 Airport Commerce Drive
Building 5, Suite 525
Austin, TX 78741
Austin Stock Broker & Real Estate Broker Negligence
Doctors aren't the only professional who cause people injuries when they fail to live up to the industry standard of professionalism and competence. Stockbrokers, real estate brokers, and other financial professionals can also wreak havoc on your livelihood if they are negligent or engage in unethical practices. These are people you entrust with your life savings, your business decisions, and financial planning for your family's future. For more information on Austin, TX stockbroker & real estate broker malpractice, please visit that page.
Also, it is recommended that you check withe the local realtors association on the realtor's standng. In Austin, Texas that would be:
Austin Association of Realtors
10900 Stonelake Boulevard
Suite. A-100 Austin
TX 78759
(512) 454-7636
Austin Attorney Negligence
Just like doctors, your lawyer is held to professional standard. However, unlike doctors, your lawyer owes you a fiduciary duty. There are not a lot of lawyers who will get involved in representing a client against another lawyer. However, it is essential that if you have been injured by a lawyer's actions that you seek help. Please visit the Austin Lawyer Negligence page for a full understanding of this area of law.
Austin Professional Malpractice Attorneys Serve
Serving clients throughout Central Texas, including Anderson Mill, Austin, Barton Creek, Bear Creek, Bee Cave, Bluff Springs, Briarcliff, Brushy Creek, Buda, Cedar Park, Cele, Coupland, Creedmoor, Driftwood, Dripping Springs, Elgin, Georgetown, Hays, Hutto, Jollyville, Jonah, Jonestown, Lago Vista, Leander, Liberty Hill, Lost Creek, Lund, Manchaca, Manor, Marshall Ford, McNeil, New Sweden, Onion Creek, Pflugerville, Point Venture, Rollingwood, Round Rock, San Leanna, Serenada, Shady Hollow, Sun City, Sunset Valley, Taylor, The Hills, Thorndale, Thrall, Volente, Waterloo, Webberville, Weir, Wells Branch, West Lake Hills, Williamson, Windemere, Wyldwood and other communities in Hays County, Travis County, and Williamson County.